17/10/2019 Release Notes 4.3.0
Last modified:
---
Roles and permissions
With learningCloud 4.3.0 a new functionality will be released that provides new management modes for your users. From now on, in netexCloud you will be able to create three new roles that affect the permissions in the different management areas of your learningCloud. Below is a list of the new roles available: 
Administrator: Full access to the learningCloud management platform.
Group administrator: Management of enrollments and recommendations at group level.
Author: Creation of content within the platform.
Validator: Publication of Sprints. 
User: Student, content consumption...
With the new learningCloud roles, any user can have more than one role and all users can be enrolled or recommended in the sprints, so it will be very easy to switch between the different portals. When you have a multirole user (any role + student role), access your profile image and jump between the different portals with a single click.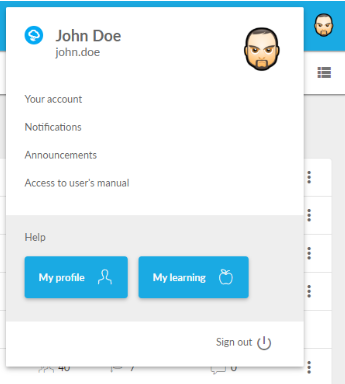 If you want to access a more detailed description of the actions that each role can do, you can access the configuration in your learningCloud panel and access the roles tab.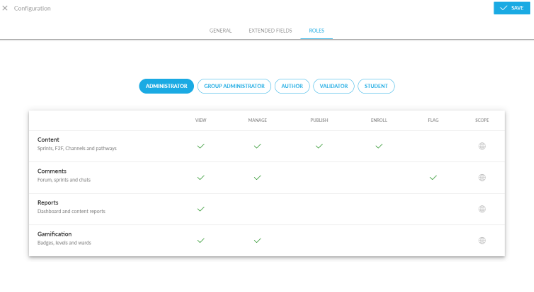 Roles's details
Administrator
The administrator role can perform any type of action on the platform: 
Create content (Sprints/Channels).
Enroll or recommend users/groups in the content. 
Publish/Unpublish Sprints.
View Sprints reports.
View platform level reports,
Create, delete and edit badges.
Create, delete and edit levels
Assign scores to students.
Group Administrator
The group administrator role can:
Enroll/recommend user in groups.
View Sprints reports.
Create, delete, and edit levels
Author
The author role can:
Create content (Sprints/Channels).
Create, delete and edit badges.
Validator:
The role validator can: 
Publish/unpublish Sprints.
User:
The user role can: